This story was written in response to a request from my friend Rodger Kamenetz to post to his popular Jew in the Lotus page.
An unlikely path
How did an artist and activist fresh out of college wind up opening a vegetarian restaurant and community center just up the street from H.H. the Dalai Lama, and how did that funky little café in the Himalayan foothills spawn a charitable organization working for sustainable living and cross-cultural collaboration across the globe?
In 1994, I set out with a couple of friends on what was meant to be a year-long, round-the-world journey. We wanted to see who lives on planet earth, learn about what it means to be human, and try to make a difference along the way. Something happened halfway around the globe, however, that stopped us in our tracks: a ten-day discourse from the Dalai Lama on the Path of the Bodhisattva — the life of the engaged contemplative who dedicates herself to the altruistic intention to realize her full potential in order support others to do the same.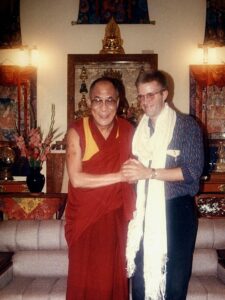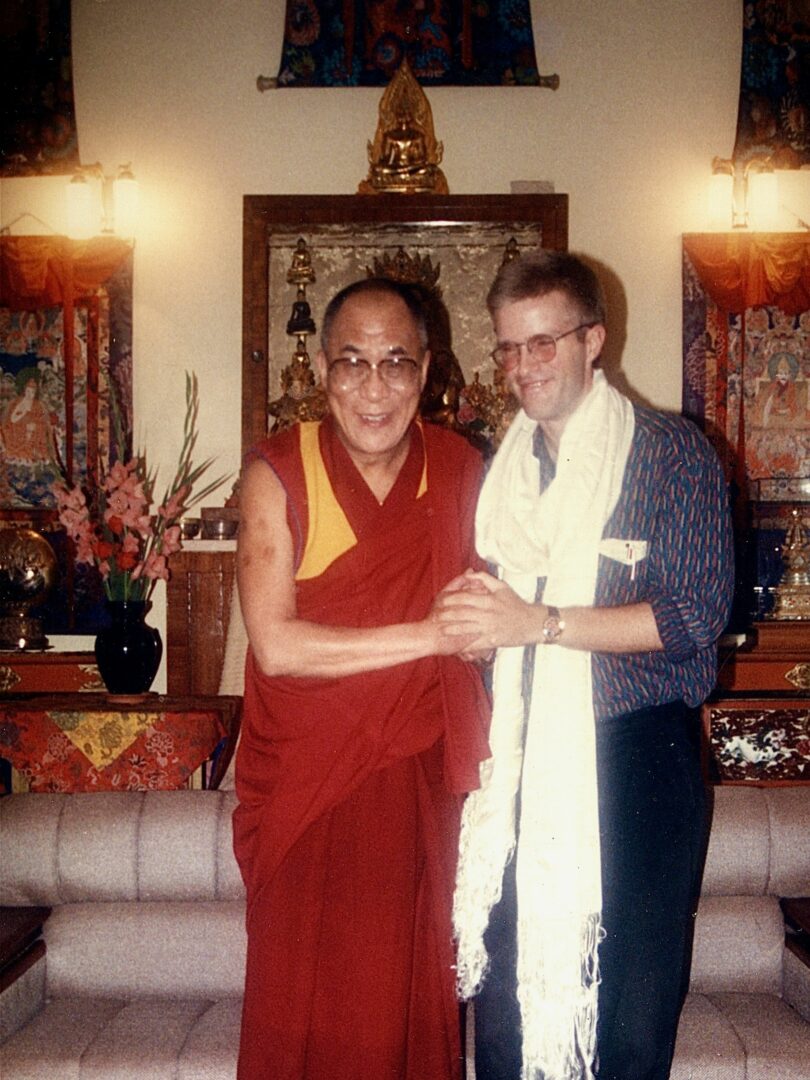 One thing leads to another (even more fortuitously than average in Dharamshala) and, in the summer of 1995, I had the great blessing of my first private meeting with His Holiness, in which he very generously advised me on the vision that would become the Earthville Network and a full-time adventure for the next seventeen years (and counting) of my life, laying the groundwork for a global network of local initiatives for a more compassionate and sustainable world.
There was some context for this: In 1992, as a senior in college, I had spent a semester in Nepal, living with a materially poor but joy-rich family in their one-room mud house just below the Tibetan border. I was profoundly inspired by the extraordinary wisdom, resourcefulness, and kindness of the peoples of the Himalayas, yet also alarmed by the destructive impact of unplanned and unsustainable "development" in the region. Recognizing that change is inevitable but can be shaped to some degree for the better, and aspiring to help build bridges of understanding, appreciation, and altruistic collaboration across cultures, I began organizing a global community of kindred spirits committed to developing and promoting holistic and replicable solutions for compassionate living and sustainable development, starting locally and networking internationally.
A café in the clouds amidst a vortex of virtue
In 1997, my friends (Scarth Locke and Dara Ackerman) and I, in partnership with local collaborators, opened the doors of the first Earthville project, the Dharamshala Earthville Institute (DEVI) and its popular KhanaNirvana Community Café, in McLeodGanj, the exile home of the Dalai Lama and the Tibetan Government in Exile. Providing jobs, training, and language education for recently arrived Tibetan refugees, we cooked up tasty, all-natural vegetarian cuisine from around the world and served it to a colorful international crowd of seekers. We channeled the modest proceeds into efforts (our own and others') to develop educational and community building programs in Dharamshala, such as computer training for Tibetan refugees and vaccinations for local street dogs.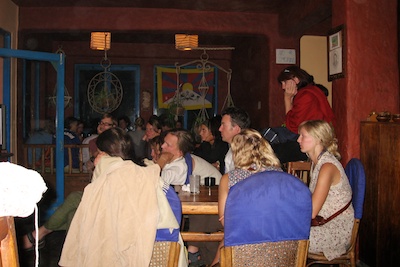 At KhanaNirvana/DEVI, we held weekly talks from former Tibetan prisoners of consciences (many of whom had been imprisoned and tortured brutally for "crimes" such as saying the name of the Dalai Lama or having his photograph). We showed documentary films on Tibet, Buddhism, India, and other topics of regional or spiritual interest. And we had lively open mic nights with music and poetry of every description. And, in the midst of this, the best part happened: connections. KN/DEVI became a fertile nexus for fruitful meetings, recruiting new volunteers for local NGOs, matchmaking our diverse visitors' gifts with the local students or agencies who could benefit from them, collecting blankets and medicines for our friends with leprosy, and endless streams of other good things.
DEVI was intended as a first step – a staging ground for launching other activities that would gradually flesh out the larger Earthville vision. This expansion happened quite naturally, as many altruistically oriented people from around the world who passed through Dharamshala made connections at DEVI, which naturally led to friendships that evolved into partnerships and projects.
One of the first such friends was Azriel Cohen (who recently passed away, in October 2012, and is pictured in the center of the photo at the top of this page, immediately to the right of the Dalai Lama). Azriel came from an orthodox Jewish background and had traveled far, both geographically and psychologically, to discover for himself why so many Jews had been drawn to India. At the trailhead of his journey, he read The Jew in the Lotus, Rodger Kamenetz's fascinating and penetrating account of the first historic meetings between a delegation of Jewish leaders and the Dalai Lama (and, through that lens, the human search for deeper connection). Following that trail led Azriel to DEVI and to us, and we began organizing Jewish, Buddhist, Jewish-Buddhist, and Interfaith programs that eventually came full circle by bringing Rodger back to Dharamshala as a guest educator and facilitator in our Passover program. This truly unique seder and month-long interfaith program was attended by several hundred people from every imaginable background, all coming together first in curiosity, then in compassion, and gradually in burgeoning love.
The next level: Dharmalaya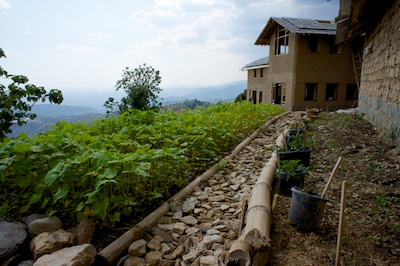 Fast-forward a decade. Having handed DEVI and KhanaNirvana over to our very capable Tibetan refugee staff, I moved two hours to the east to the village of Bir, a small and yet-unspoiled settlement of a few hundred Indian families and one of the earliest Tibetan refugee colonies in India. There, we receive a warm local welcome to establish the next step in the Earthville vision: a rural eco-campus for sustainable and compassionate living. With the generous support of Didi Contractor, one of the most preeminent vernacular architects in northern India, and an enthusiastic crew of local laborers keen to learn the dying arts of the traditional eco-building styles of the region, we set about creating the Dharmalaya Institute for Compassionate Living.
Before the first building of the Dharmalaya campus was even half-finished, we held our first "integration retreat," a ten-day program organized in collaboration with our friends from SanghaSeva, which combined meditation in the mornings and evenings with mindful and joyful volunteer work in the afternoons. Participants made mud bricks with the locals, and then learned to build adobe walls. Organic gardening and permaculture landscaping were among the other "work meditations" on offer. The goal of these programs is threefold:
To provide a vehicle to help us take the warmth from the meditation cushion or the yoga mat and apply it in our work and social lives;
To create a model of immersive, contemplative ecotourism that allows visitors to break through the tourist bubble and have authentic and meaningful contact with the good peoples of the Himalayas; and
To establish a local green economy that creates fairly-compensated employment for low-income villagers and especially to create empowering opportunities for women of so-called "low caste."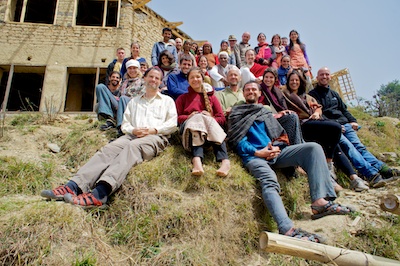 Since then, we've done two more similar retreat programs and the experiences of both the locals and the international participants in these programs have been life-changing in many cases. Considering that we haven't even officially opened yet, we imagine this bodes well for the future.
Once the building is complete and the Dharmalaya Institute opens to the public, we will host a variety of service-learning programs in various aspects of sustainable and compassionate living, including classes, workshops, and retreats. We're already running a weekly meditation group (seasonally). We hope to carry forward the magic of the interfaith programs that began in Dharamshala, and take them even deeper in a beautiful natural setting where our guests and volunteers can stay a while and find their own ways to plug into this dynamic mix of social and ecological learning and service in a contemplative environment.
Help us launch this innovative campus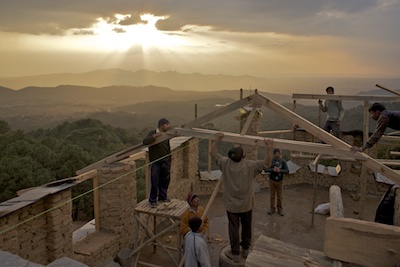 In the last four years, we've launched a innovative NGO, raised around $80,000, created green jobs for dozens of Himalayan villagers, hosted over a hundred volunteers from India and over 25 other countries, completed about 90% of the beautiful new adobe-and-bamboo building that will serve as the HQ of our eco-campus, and changed a few lives along the way.
Once the doors of the Institute open to guests, the project will have a steady steam of income to sustain itself, but we need public support to make the last step to reach that point.
We welcome all of you to visit, and we look forward to connecting with you in person or online.
You can learn more about Dharmalaya at dharmalaya.in, and about the Earthville Network at earthville.org.