We finished filling the foundation trenches just in time. 🙂
From the Earthville news page: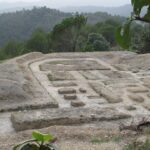 Earthville's Dharmalaya team is happy to report the completion of the foundations for the Dharmalaya Institute, an eco-friendly service-learning campus in the foothills of the Indian Himalayas. The Institute is being constructed in a style based upon the traditional vernacular architecture of the area, known as "Kangra style," using eco-friendly materials and non-mechanized building methods.
The whole story is here.